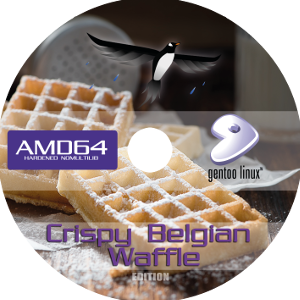 So,
FOSDEM 2017
is over, and as every year it was both fun and interesting. There will for sure be more blog posts, e.g., with photographs from talks by our developers, the booth, the annual Gentoo dinner, or (obviously) the beer event. The Gentoo booth, centrally located just opposite to KDE and Gnome and directly next to CoreOS, was quite popular; it's always great to hear from all the enthusiastic Gentoo fans. Many visitors also prepared, compiled, and installed their own Gentoo buttons at our button machine.
In addition we had a new Gentoo LiveDVD as handout - the "Crispy Belgian Waffle" FOSDEM 2017 edition. For those of you who couldn't make it to Brussels, you can still get it!
Download the ISO here
and burn it on a DVD or copy it on a USB stick - all done. Many thanks to Fernando Reyes (likewhoa) for all his work!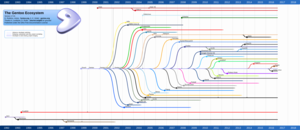 Finally, for those who are wondering, the "Gentoo Ecosystem" poster from our table can be downloaded as PDF
here
. It is based on work by Daniel Robbins and mitzip from Funtoo; the
source files are available on Github
. Of course this poster is continous work in progress, so tell me if you find something missing!