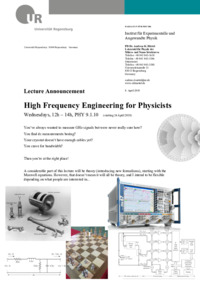 Term has already started, so this announcement is technically a bit late, however... This summer term I'm offering a lecture "
High Frequency Engineering for Physicists
". If you plan to work with signals in the frequency range 10MHz - 50GHz, this might be interesting for you...
When and where? Wednesdays, 12h - 14h, seminar room PHY 9.1.10. The next lecture is on 8 May 2019
Concepts and formalisms for the frequency range 10MHz - 50GHz
Handling equipment for this frequency range, designing devices and measurements
Using this frequency range in a (millikelvin) cryostat
More information can be found soon on the
homepage of the lecture
.
See you next wednesday!